Scarlett Johansson
Scarlett Ingrid Johansson was born on November 22, 1984 in New York City, New York, USA. Her mother, Melanie Sloan, is from Ashkenazi Jewish family, and her father, Karsten Johansson, is Danish. She has a sister named Vanessa Johansson, a brother named Adrian, and a twin brother named Hunter Johansson born three minutes after her...who knew she had a twin...I sure didn't! She started her acting career starring as Laura Nelson in the comedy film North (1994). The highly rated drama film The Horse Whisperer (1998) brought her praise and worldwide recognition. After that, she starred in many other films including the film Ghost World (2001) and then Lost in Translation (2003) with Bill Murray in which she again, astounded the critics. Afterwards, she appeared in the drama Girl with a Pearl Earring (2003).
In 2003, she was nominated two Golden Globe Awards, one for the film Girl with a Pearl Earring and one for the comedy Lost in Translation. She was going to be Lindsey Farris in Mission: Impossible III (2006), but she dropped out from other scheduling stuff, so they gave the part to Keri Russell. Her next film was The Island (2005) with Ewan McGregor, which didn't earn good reviews. After that...I know, I know, there are a lot of films that she's been in...anyways, she appeared in Match Point (2005) and was nominated again for a Golden Globe Award. Man she's been getting a lot of awards lately. Recently, she's been in the marvel films Iron Man 2 (2010), The Avengers (2012), and Captain America: The Winter Soldier (2014), as Natasha Romanoff ,which is her real name in the films, but the name she mostly goes by in the films is Black Widow, which I thought all those movies are just flipping amazing!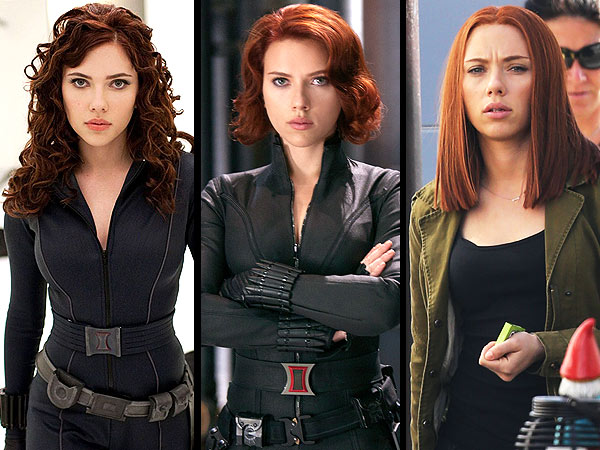 On the far left she has long, curly, and a little dark red hair in Iron Man 2, the middle one is when she had short, little bit more orange, and wavy-ish hair in The Avengers, and the one on the right is when she had short, straight, and a bit of a bright orange hair in Captain America: The Winter Soldier. What an evolution of Black Widow. Speaking of which, her upcoming films where she plays Black Widow are The Avengers: Age of Ultron, which will probably be released on May 1, 2015, and her very own movie Black Widow, still don't know when those are coming out yet. And her other upcoming film Lucy, which will be released sometime this year. Lucy is about this girl who was at a party, and then she was taken, and I don't remember what other things happened, but you should see the trailer to understand what I'm trying to sort of explain.
Anyways, lets hope that she does a very good job on those upcoming films and see wherever her career takes her! And that's all I have on her, please comment if you're confused on something, or if I missed anything, or stuff like that, just please, please comment if you guys need anything. I hope you liked this post and see you next time!